Friday Afternoon
Regular price
$ 200.00
Sale price
$ 200.00
Unit price
per
Sale
Sold out
 *NEW* SynesTEAsia Experience tier available!
Please add your preferred appointment type to card. Premium appointments must self-schedule on our calendar through the "Book Now" button above.
SynesTEAsia Experience:
Let Friday, our CEO & Head Tea Witch, create you a custom surprise! Indicate in the order notes what concept you'd like to taste (as well as any allergies/intolerances/preferences) and Friday will use her neuroscience superpower to create a tea that tastes like your concept! You won't have creative input, but you'll get 2 oz of your surprise sensory touchstone tea and we'll keep the recipe on file in case you want to reorder in future!
Read about this process and see an example here!
Premium Experience: Synesthesia-based blend with Friday? Fandom fun with Greg? Choose your blender and bring us any concept you like! You have full creative input and final say on when the blend is finished! Once the recipe is finalized, we'll fill it in our database and price according to ingredient expense. You can reorder your blend anytime once it's on file, simply by emailing us a request!
There is a one-time $150 blending fee for this tier. Fee covers blend development service and covers our time, expertise, materials, any necessary shipping cost for samples and as many rounds of samples as necessary to finalize your perfect tea blend.
This product listing does not include the tea itself, beyond what is created for sampling purposes. This is a consultation to prepare new blends. Allow 1 week to 1 month for delivery of shipped blend samples. Seattle residents and visitors can have a face-to-face consultation in our Wallingford store.


Questions? Contact us at fridayafternoontea@gmail.com
Share
View full details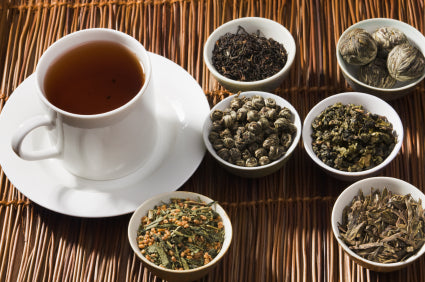 Your Custom Blend Guides
Blend with Friday

Owner Friday Elliott possesses a rare form of synesthesia which gives her the superpower to literally taste language and personalities as complex flavor profiles. Using this power, as well as a professional background in culinary arts and specialty beverages, Friday has developed hundreds of fandom and personal blends!

Blends by Friday

Blend with Greg

With over a decade of professional culinary experience, six years in specialty tea, and a keenly honed palate, Greg is an expert in complex flavor profiles. His personal inspiration sources include everything from dinosaurs to Legend of Zelda, and he's always ready to geek over your favorite fandoms!

Blends by Greg